This book is an enjoyable armchair read, and at the same time a practical field book. Its combination of practicality and good looks starts on the front cover with a new, stylish appearance and a title that could not be more accurate. For this book belongs in the car pocket or the rucksack, always available when you are wandering in Warwickshire.
Whether you find yourself in Kineton, Mancetter or Kenilworth the book provides fascinating insights into the links between ancient buildings, local building materials and geology.
This book benefits from that work by presenting it in an easily readable and understood way.
A Glossary provides explanations of geological terms used within the book, and a map shows the location of the main rock types found within the county (this includes Coventry & Solihull)
About the author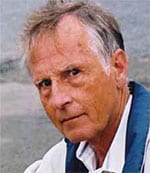 Hugh Jones started fossil collecting at the age of eight and went on to graduate from Cambridge with a degree in geology in 1958. After a few years as a geologist with BP Exploration most of his career was teaching biology at the Mid-Warwickshire College of Further Education in Leamington Spa. On retirement, enthusiasm for geology returned and this book is the outcome. .
First published in 2006 this book has since been updated with this revision being published in 2011.
Hugh made a significant contribution to the Strategic Stone Study, a joint BGS/English Heritage venture which enabled details of the most significant building stones in each county of England to be established and, where possible, the original source of stone for a particular building or settlement was identified.
This book may be purchased from the Warwickshire Geological Conservation Group. The cost is £6.00 + £1.50 P&P via cheque.
Please download, print & complete the order slip below following the instructions. Please contact us if you require more than 1 book for postage costs.
Last Updated on 04 Apr 2021